The Lyle's Barber Shop PEACEMAKER // 1.5" Professional Razor w/ Deluxe Strop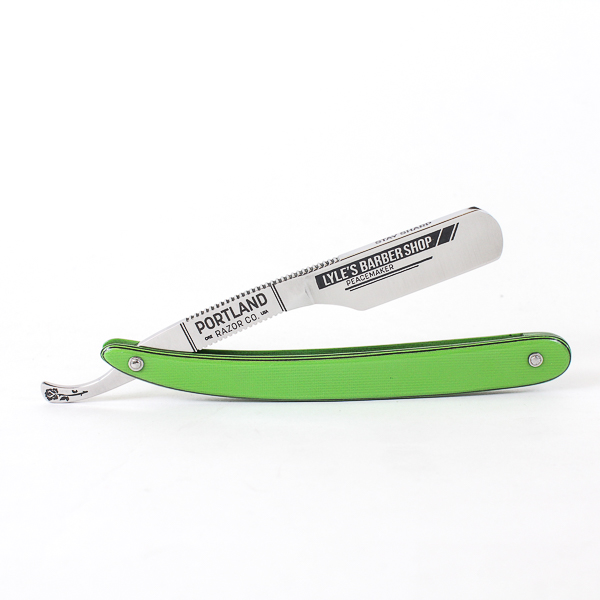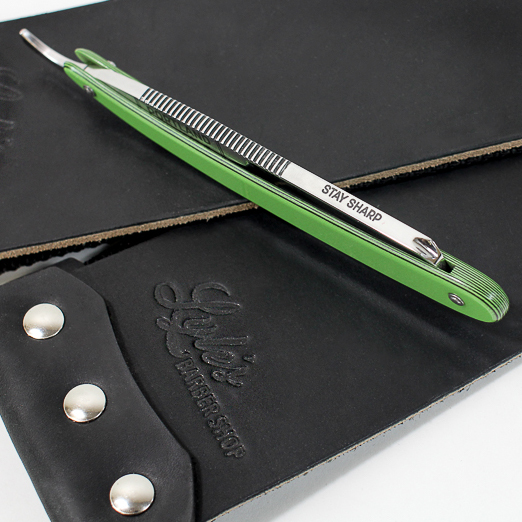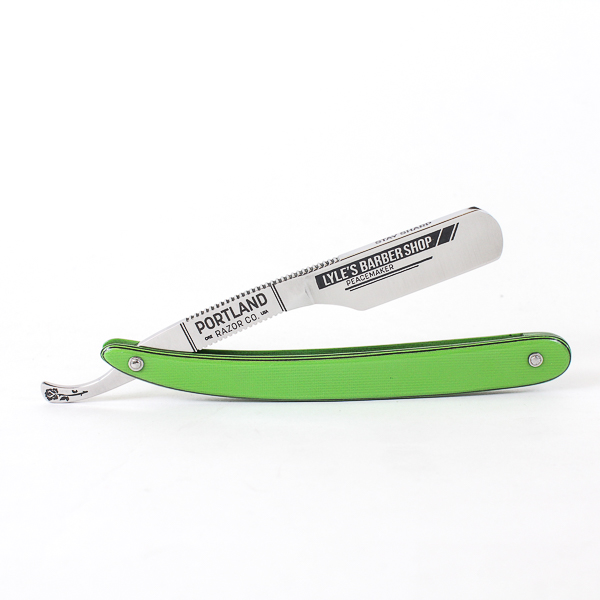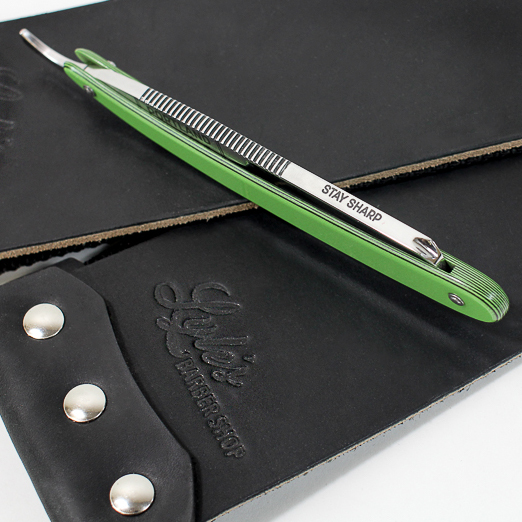 The Lyle's Barber Shop PEACEMAKER // 1.5" Professional Razor w/ Deluxe Strop
We teamed up with Barber Brian Burt from Lyle's Barber Shop "The Barber Shop that Grew with the Great Northwest" (@lyles_Barbershop) to make something that would truly celebrate old school barbering. After months of working closely with Brian to perfect this conventional straight razor's geometry and presentation, we are very proud to present you with the PEACEMAKER.

PEACEMAKER in Creature Green G10 Scales - now shipping
PEACEMAKER in RED RUM G10 Scales - now shipping
PEACEMAKER in Mr. Pink G10 Scales - now shipping

This pairing of razor and strop is everything you need to change the game. The 1-3/4" razor blade is the perfect size for neck shaves, shaving those tight areas around the ears, head shaves and the 14 step face shave. The PEACEMAKER may also be fully submerged in Barbicide® Plus without any degradation to the steel or scales. The strop is handcrafted of English bridle leather and is designed to clip right onto your barber chair. Differing from other strops on the market, our Barber Grip strop end is absent of metal hardware that could scratch or damage your chair.

THE STROP:
- Deluxe English Bridle Strop
- Handmade in Portland, OR
- Crafted from 7oz American "English" bridle leather
- Black dyed leather
- Leather strop treated and conditioned with natural pure neatsfoot oil
- Prep side is crafted from durable 3" black poly webbing
- "Barber Grip" strop end

THE RAZOR:
- Handmade in Portland, OR
- 1.75" blade
- Choice of Creature Green, Red Rum, or Mr. Pink G10 scales
- 5/8 blade height
- Left-handed graphics
- Quarter-hollow grind
- Lower and extended upper jimps for added grip and control
- Stainless steel blade heat treated in house -- no mystery metals!
- Hardened to 62 HRC
- Shave-Ready: Hand-honed to 12K grit and stropped before shipping
- Pinned by hand with stainless pins and washers
- May be fully submerged in Barbicide® Plus for state board-approved shop use

PEACEMAKER straight razors are not sold separately and may only be purchased as part of the set. The PEACEMAKER cannot be modified or customized.

Each of our razors is handmade with care and built to order. Please click here to view our current lead times.

If you want to learn more about conventional straight razors in the barbershop, check out our Bronze Certification. It's free and available online!
Flat-Rate USPS Priority Shipping for all US orders!
DIMENSIONS:
5.9" x 0.85" x 0.35"
150mm x 22mm x 9mm
Frequently Purchased with: